SuperStarfighter
Superstarfighter v0.3.1 - call for Playtest
---
Call for Feedback
Superstarfighter keeps in its development journey.
Lot of new things have been added. New Game modes and new arenas. All of them needs testing. and we need feedback.
If you just came here and you're wondering " Yeah, I might want to be a champion... but, What is Superstarfighter, though?", I have an answer for you and some pictures.
Superstarfighter is a league in which 5 species (currently), bring their own view to the galaxy. It is a "sportive competition". Every game mode is a different "sport" as it was Olympic Games. The idea is that every species bring a "sport" they are passionate about it. The first species who win 3 matches win.
Single or multiplayer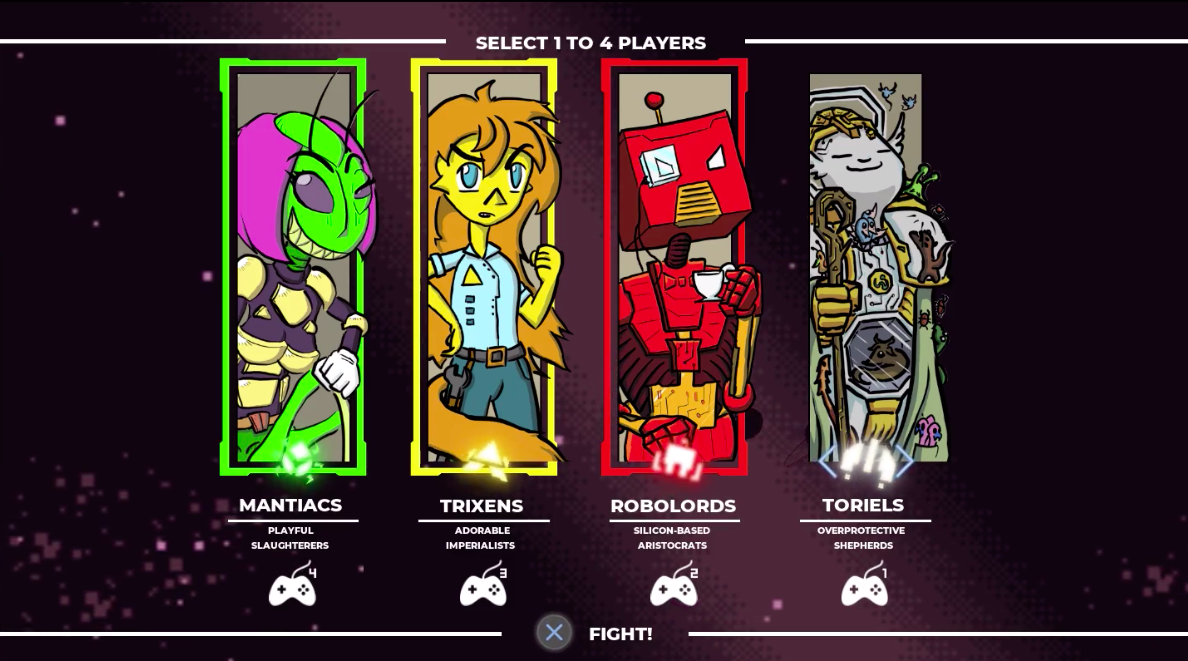 This game was born as a couch local-multiplayer game, but we added the option to play single player - with a bot, that is not really smart but goes directly to the point. But we suggest you gather some friends and play with the gamepad.
Frantic and non-stop action, with just one button
There are 5 species right now and 4 different Gamemodes. All of them spin around two principal mechanics: The driving and the feeling of driving a ship in which you cannot stop and its physics (drifting, collision, speed) and the fact that your only way to defend is shooting bomb at your back. The bomb generates an explosions that might kill you .
So .. basically, No breaks, frantic combats, speed, bombs in order to put together people and try to win the league. Just with bombs . You only need a button and the analogic joystick.
Different Game modes
In this version 4 game modes will be tested, with different arenas.
Capture the flags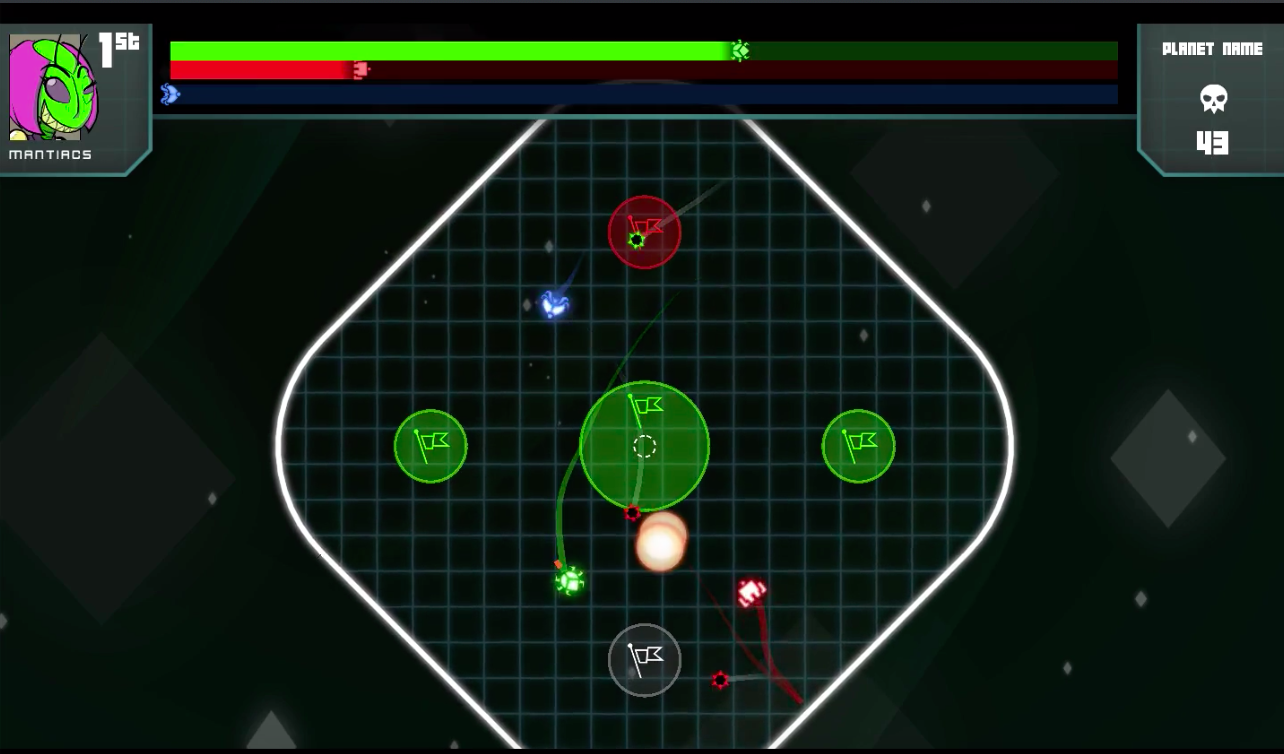 Capture the flags
Take the crown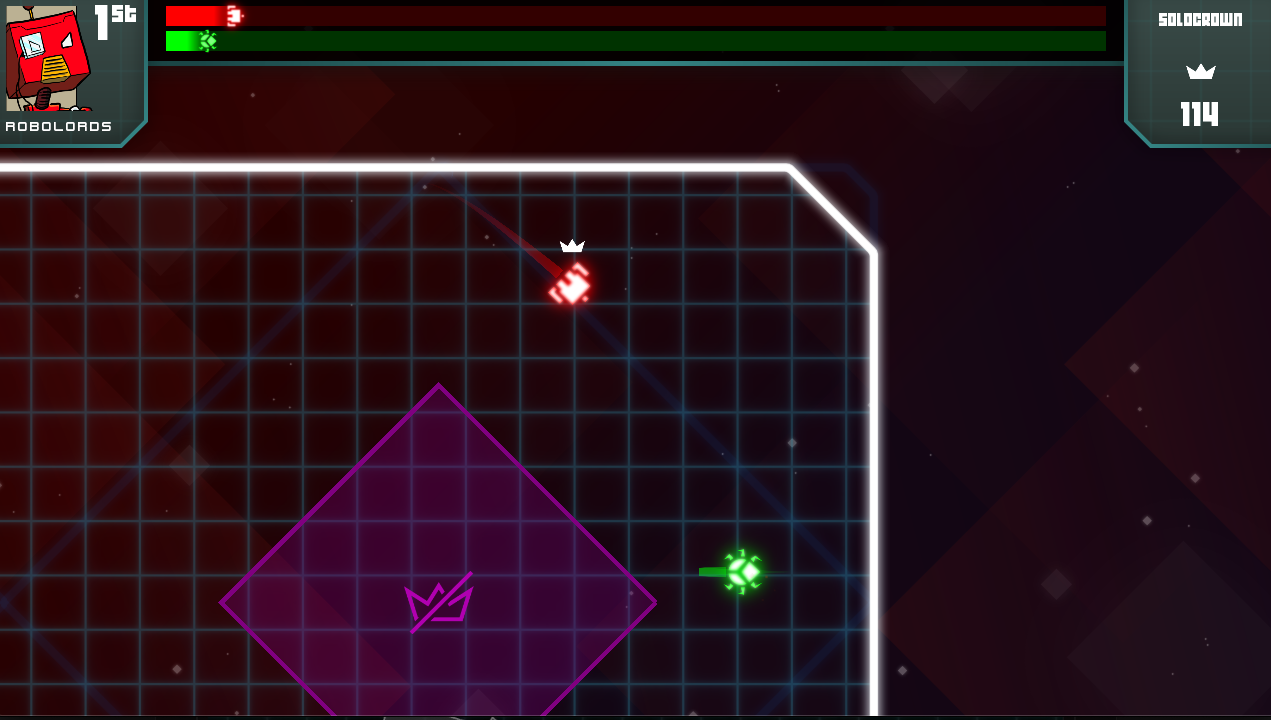 Deathmatch

Collectable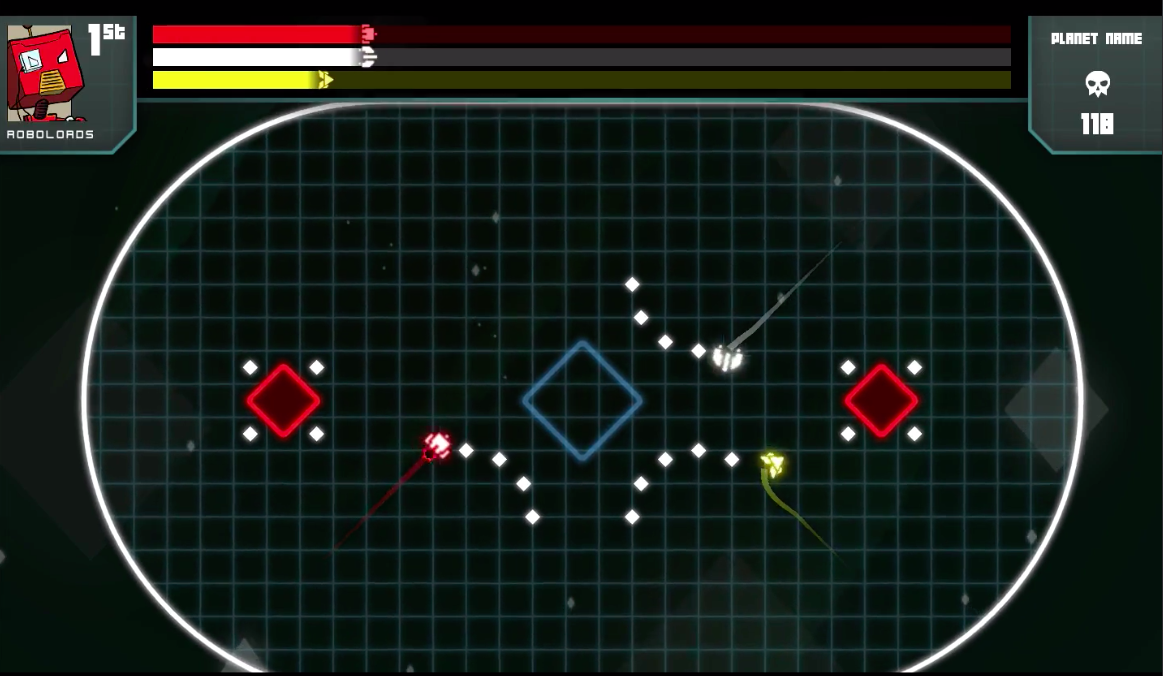 The game focus and The frantic scenario brings the player to an easy death, but you will be respawned immediately after for a new try.

Session and match feeling. What we need to test

We have in mind looots of game modes (and lot of game modes have been throwed away). We are experimenting right now arenas (so .. level design) and the "session feeling".
I'll tell you more about it. Every combat is an arena with its game mode: you have a purpose - the game mode - and a time (or points) to reach that goal. With this comes lots of design questions:
This is the "combat feeling" : how long do you want that to last? how much you're enjoying it? Does the goal of the game mode is clear enough? is it funny? is it enjoyable? How frustrating is the death? How long till you respawn? too short? too long? Is it fair? How is the arena? the obstacle in it?

Then there is the "session feeling": Once a combat is finished how much the player(s) want to carry on with the game? would it like to keep going with the same game mode? Would it like to change it? would it like to choose? How many matches would you be able to do it to make more fun?


What do you guys think ? Would you give superstarfighter a try ?
Files
superstarfighter-linux.zip
73 MB
Jun 01, 2019
superstarfighter-mac.zip
75 MB
Jun 01, 2019
superstarfighter-win.zip
71 MB
Jun 01, 2019